Journal log: Final
"I only wanted to be left alone..."
"I never wanted anything to do with the war... with the attack on the humans... fighting melitians... and especially not the banishment of the fomors from paradise... I just wanted to be alone."
"A long time ago, long before the fomor/human war, there was peace. Fomors and mortals living together in harmony. however, there were some fomors who wished to upset this balance. One group of "special" fomors, more powerful, more intelligent, and more unique in thought then any other fomor with the unique ability to change form, their likeness or shape, the Demons came to be at the dawn of existence. Tasked with the Responsibility of maintaining peace and balance among the mortals and fomors. I was one of them, a Demon in paradise, living in harmony with the humans. I had a Wife, 2 loving children, and a small home away from everyone in the main towns. I was happy. And then it happened, with no warning or provocation. The fomor/human war erupted, and tore the bonds of mortal and fomor to pieces, I was content with staying out of it however, I had a life outside of it all. Then it was taken from me."
"My wife and kids, my cozy home in the country, burned before my eyes, caught in the middle of a terrible battle. A tragedy. but what was worse, was what came next. In a blinding rage, only feeling contempt for all things that ripped my life apart, that tore my world to shreds, I let out all my anger, all my strength, in one outburst. My pain, my hate, my sorrow and love, everything. I killed them. Every last one, fomor and mortal alike. I killed them all without prejudice. But it didn't bring them back. My family and life were lost forever. Filled with emptiness, I wandered and hid from the war, until it finally ended. I had taken Form of a fox at the time, residing in a small forest and living the rest of my immortal days in grief, hiding from the wrath of the Goddesses in fear of being sent to the destroyed ruins of the new fomor world. And then he found me."
"A young man by the name of Michael, had found me and with a calm sensitive hand, extended his friendship. And I'll never forget that moment. I bit him. and none to lightly either. But he simply shrugged it off, and came again the next day, and the next, and so on. With slightly less apprehension each time, we slowly came to become friends, playing games and chasing animals through the woods. My life was becoming whole again, piece by piece. I should have known better then to grow comfortable and think it would last. The bear attack happened so suddenly, Michael was caught off guard, and wasn't looking good. I had no choice. I released my fox form and used my birth power to dispatch the beast and allow Michael to live another day. Demons weren't seen as negative before the war, they were just another fomor race to the humans. But after their key role in it, we were labelled as warmongers, agents of chaos and disorder, pure evil. Needless to say he was more then a little shocked. Before i had the chance to explain myself, he ran off. my only friend in hundreds of years, fleeing me in terror. not long after the church came, and the Goddesses came to find me in my hiding. I begged and pleaded, but they sent me to the other world in the end."
"Thousands more years, filled with strife, conflict, violence, and anything else imaginable, I suffered. Mourning my lost Friend, loved ones, everything. Then one fateful day, I felt a power pulling me out. Something guiding me out of the desolate wastes of Tir na Nog, and back to paradise. An invitation, to join the mortals once again. Out of desperation, I threw away my fears and doubts, and leaped through the boundaries of the realms. I woke and found a small human male, staring at me, holding some odd device, and repeatedly stammering "it worked". I came to find I had been torn from the other world, and brought to Erin again at a summons request from a man named "Jahbez" and that i was no longer able to turn into my true demonic form. While the inability to do so was a blessing, there was still much i did not understand. One thing was for sure however, that this male was the sole reason i was able to return. Out of gratitude, I pledged my thanks and allegiance to him, swearing to serve him till the day he died."
"Over the course of a few days, I came to learn he was the leader of a small group of adventurers. He called them the "Elderguards" and I was sworn to aid and serve the members as best i could. They learned of my story and came to agreement that my new name should be "Shippo". and this is where my story ends. I have made many enemies in the other world, many of which would love to get a chance to kill me at any cost. Thus, Zen Lyne has come to an end, The Eternal Demon has died, and this is his final journal entry. Shippo's adventure however, is just beginning..."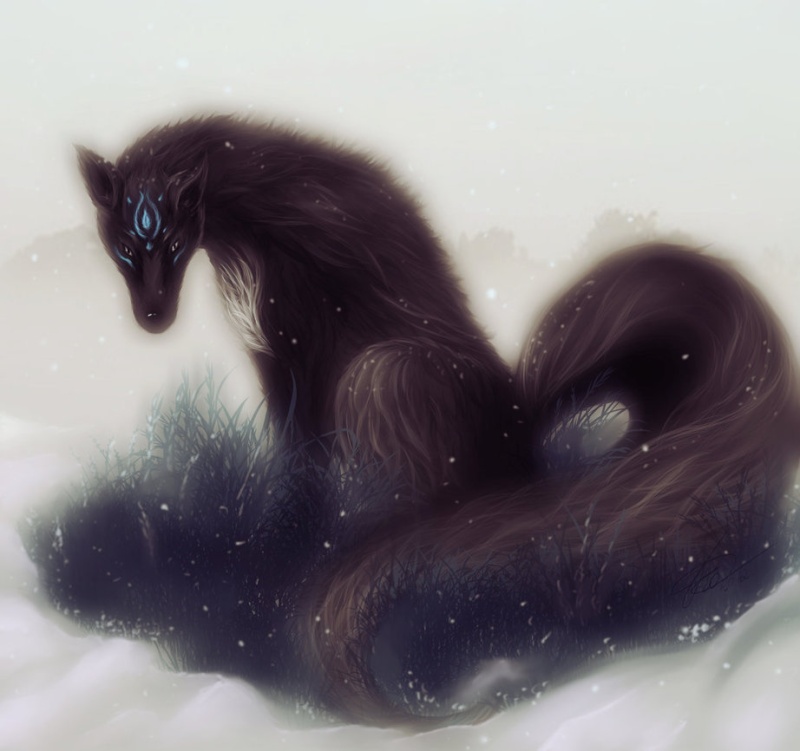 *I have in no way okay'd Jah's role in this with him nor do I claim the artwork as my own, this is a brief synopsis of a back-story for my character with a close rendition of what i believe he would look like in his fox form. more like this will be coming out in the form of diary entries depending on if this kicks off or not*
_________________
Happy Fall!
Wow bru. Dat was an amazin story. You should be a writer bru.

Fuzushima




Posts

: 82


Join date

: 2014-08-14


Age

: 24


Location

: SPACE!!!



lol, i enjoy it, but its more of a hobby
_________________
Happy Fall!
I feel ya bru. Iz a nice hobby to have.

Fuzushima




Posts

: 82


Join date

: 2014-08-14


Age

: 24


Location

: SPACE!!!



I never got around to saying this, but man that was an incredible story. I will never tire of thanking you for remaining with us after all youve been through...

_________________
The passage of time depends entirely on where you're standing. Relativity Theory… it's so romantic. But it's just so tragic too. — Makise Kurisu

Jahbezx

Leader





Posts

: 27


Join date

: 2014-08-14


Age

: 23


Location

: Steins;Gate



its all good, im ahppy to be here and happy to be a part of such a happy and vibrant guild!
_________________
Happy Fall!
---
Permissions in this forum:
You
cannot
reply to topics in this forum